Many a times we are told that starting a business alone is madness and that one should settle as corporate slave rather than dreaming about romancing in the world of startups where sky is the limit. It is true that startups require a lot of determination and endless sleepless nights but when it's done right, it triggers revolutionary waves which are simply unstoppable. In order to ensure success in your entrepreneurial journey, one needs to find the magic elixir which will help reap the inbound rewards; this can be achieved by learning from successful and growing entrepreneurs.
Hassam Mahmood and Mudaser Iqbal are one of the several people who decided to step in the startup world by recognizing the lack of merger between our healthcare system and the IT sector, hence introducing their company called BlisFix. BlisFix is one of those very few startups in Pakistan, which is solely about ideas, innovation and revolution. With their motto "Spreading bliss in healthcare", this startup aims at creating much needed products which promises to provide convenience to both the doctors and their patients by serving as a reminder for follow-ups, appointments, vaccination schedules etc.
An interview with Mr. Hassam Mahmood provides us an insight about their upcoming venture BlisFix.
1.Can you please explain what is Blisfix and the idea behind this startup.
BlisFix aims to change two things in Pakistan:
The absence of SaaS business tools targeted for businesses in the lower strata of the Pakistani society – business owners who are low on budget, are computer literate at a very basic level, only understand Urdu, and need targeted software products to help them scale. Such products are a norm in the western world, but to Pakistan, they are a revolution.
The extremely poor way in which tech companies are run in Pakistan. The problems are numerous, ranging from the company processes, employee treatment, company identity, and vision. BlisFix aims to set an example of how a company should function.
2. How do you intend to change the healthcare system of Pakistan through BlisFix?
The idea is to empower healthcare professionals with very affordable SaaS tools that are targeted for the Pakistani market. These tools are designed to be of high quality and low cost. We are working on preventive health care tools, which would have a huge impact on the entire health of the nation. Such tools would be very expensive if doctors/clinics get them developed from software houses, and we would be offering them at a fraction of the cost, in higher quality.
3. According to statistics, despite the boom in smart phone sales in Pakistan, majority of the people remain illiterate to this technology, do you think this app is the best way to bring about a revolution in the healthcare sector?
Clubinternet is a great startup working to address this issue of tech-illiteracy, gradually; we are becoming a more tech savvy nation. Additionally, we are focusing our product on SMS in Urdu as well, to reach all kinds of people.
 4. How will this app synchronize with the doctors, their patients and the respective prescriptions?
For now, we are focusing only on patients' bio data, appointment scheduling, and respective reminder plans.
5. Apart from serving as a 'reminder', what other features will you install in this app?
Online appointment scheduling, resource management, calendar of events, and basic business stats are also part of the application.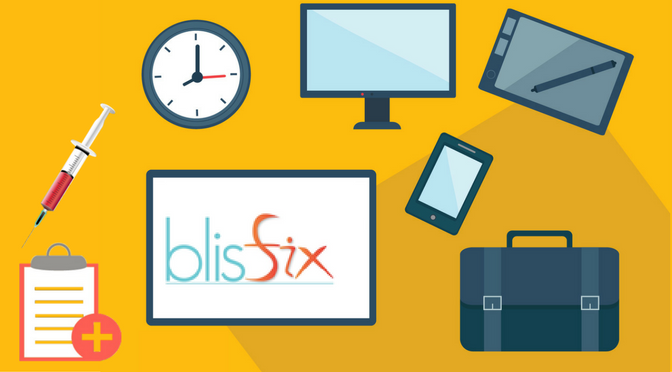 6.Marketing is a key to every startups survival, how are you getting your word across to the target population?
At this moment we are researching the market and the response through direct sales. Direct sales would involve us going to the potential customers ourselves, the cold-call method.
7. BlisFix is still in beta version, how is the initial response regarding this startup?
It has been slow in Pakistan, but people in Dubai, Canada, Finland, and USA are interested in our product. We are negotiating a partnership in Canada.
8. Will the doctors have to pay for this app?
The doctors will pay a monthly subscription fee to use the SaaS product online, through their web browsers and phones. This fee would be around Rs. 2,000, for a software solution worth around Rs. 5,000,000
9. What kind of hurdles have you faced while establishing this startup?
The aversion to technology, especially in the healthcare industry in Pakistan. The doctors are mostly set in their ways, and are afraid of changes.
10. How do you set yourself apart from other apps who are offering the same services?
No one that I am aware of is focusing on preventive healthcare. Also, we are offering a productivity tool, rather than just offering the doctors online exposure which most other startups are focusing on.
11. The idea behind Blisfix is to create different products which would bring about a change in our healthcare system. Apart from this app, what other products do you intend to make?
We are working on another SaaS product for a different industry, but this time, we are solely focused on Pakistan, whereas the healthcare product has an international market as well. This other product would be revealed soon, stay in touch J
12. Is your startup incubated anywhere?
The Microsoft Innovation Center, Arfa Tower, Lahore.
13. Have you registered any doctors yet?
Not locally, but internationally we have some potential customers waiting for the product.
14. Do you intend to partner with hospitals?
Yes, why not! For now, there is a hospital in Faisalabad which is interested in our solution. We are in talks with the senior doctors there, and they have installed a computer system for the PAs to use our solution.
15. How many members do you have on your team and what are their responsibilities?
We have two founders.
Myself, Hassam Mahmood, and Mudaser Iqbal.
Mudaser is the CEO and CTO, and is a veteran software engineer.
I am the CCO, owing to my very diverse experience in engineering, PR, writing, counselling, music, and PhD research. I am in charge of product design, marketing, and business development.